A whole new world lies before your feet, ready to be explored. And there is much territory to explore for the travellers with an open mind, or who just want to enjoy themselves.
You'll find games, cartoons and short stories to entertain or maybe a walk around in the gallery?
Maybe I can tempt you with articles on webdesign, or computer talk?
Or maybe... Maybe you should just have a look for yourself.
The
Sabrina Online
comic strips are among the most popular pages on my site. Why not check for yourself the reason why?
One part that is popular - for some reason - is my harem. Plans are afoot for a new look, but until then go visit my
haremgirls
.

Get out that competitive feeling and try to beat the hi-score, or just have some fun playing breakout.
From time to time I write a bit about my thoughts about
web design
, based both on my own experiences and advice I read various places.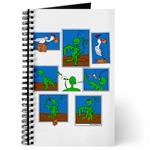 Merchandise
You can buy cool merchandise with Dionaea-motives.
Why not have a look?
There's many new products to choose from, with different motives.
Last update(s):
(21st January 2009)
Sabrina Online: Tabitha had got a new computer - and she know how to use it...
Are you getting the most out of the web? Is your experience the best you can get? If you haven't tried Opera - and I mean really tried - now is the time to do it!