Latest awards
[1] [2] [3] [4] [5]
Awards, Display Case 3
20th May '97
Absinth doesn't accept anything - first time she looked at my site, she wasn't satisfied, so I had to do some more work at my moonbase. But when she first accepted my base as a worthy winner, she didn't do anything halfway; Just look at those three gems above. And last, but not least, I got Absinth herself - just look in my harem...
Thank you Absinth, you've made me a happy man :-)
---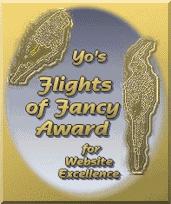 18th May '97
"I thoroughly enjoyed your site. I found it fun, informational, attractive, pleasant, and easy to navigate."
Wow - that's what I call approval... Thanks Yo!
---
16th May '97
"I have just finished my first visit to your site, and thoroughly loved it! It is with great pleasure that I give to you and your great site, the Writer's World Award of Excellence
Great Job! Keep up the Good Work!"
---
13th May '97
"Today I will offer you my 'Tabor's Child Award' for Value & Entertainment. My awards can not be applied for, they are issued to sites I happen to view and feel comfortable with, which have a solid technical standard, a high value of entertainment, and are not overemphasizing the author neither have to many banners and cookies."