The alternative title for this post could be "The Unfortunate Crow", for obvious reasons. It's quite a while since now, that I saw this crow in the snow one winter, trying to eat some snow. Probably the easiest way for it to get something to drink.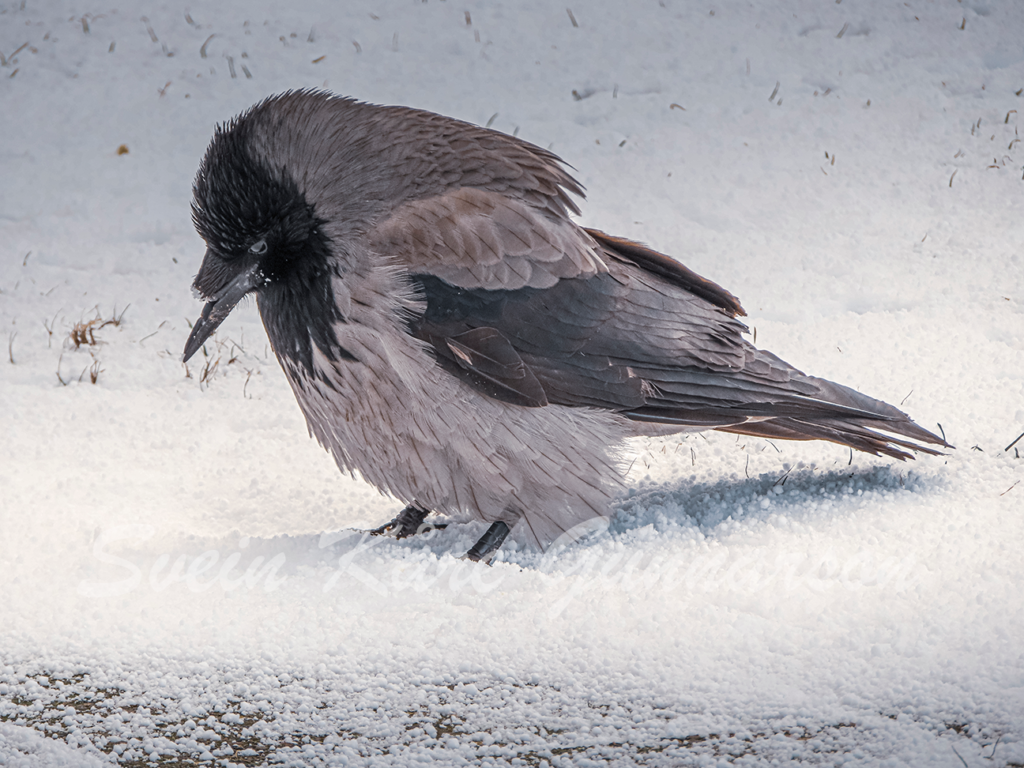 A crow isn't, I must admit, a bird I pay too much attention to normally. This time, tho, I soon discovered the problem it had to cope with: The broken beak. I quickly turned on the camera on the phone and snapped a few pictures, where it stood just a couple of meters away from me. Maybe three.
Also, instead of being a bird I don't care much about, this one I felt sorry for. How long had she lived without the beak? How did she break it? How long would she live now? I found myself wanting to give her a beak prosthetic, but two things stopped me: First, I would have to catch her (she ignored me when I asked her to come to me) and second, I would have to make her that prosthetic.
I gave up that thought.
Instead, I toyed with the thought of painting her. Now I've finally done it.
I've never tried to paint anything photorealistic, and all the details in the feathers scared me away from painting this for some years. But while I may enjoy doing some fiddly details, it's first now that I've painted a few years and learned a bit I found this picture again with the intent to paint it. Faking the details.
In the process, I noticed for the first time that the crow isn't just pure black and grey – there's also some brown in there. I do notice more details when I study something to paint than I used to. Cool!
So, how should I paint it? Photorealistic is out of the question. The details is way too finicky for my abilities. Maybe one day, if I want to spend ages on one painting, but for now I had to simplify, a lot. Some lines to indicate the direction of the feathers are what I went with.
Currently, I'm very happy with what I've managed.