The topic: Trees. Theme: Autumn. At least, it was autumn for my part. And yes, this was a new challenge in the painting class, where we after an introduction to how different painters painted trees, and how their expressions changed during their lives, could either copy one of them, in our own styles or be inspired by them.
And there were many styles to choose from, too—anything from serene, naturalistic scenes to completely abstract, from many colours to few colours. Personally, I fell for a forest scene, with only trees. And painted in black and white (well, greys) except for one tree, with its leaves in full autumn colours. And a couple more.
That's what I was inspired by. Except, I didn't want a forest scene, I wanted something more urban. A little glimpse of the urban, but not any too straight lines. And, the result?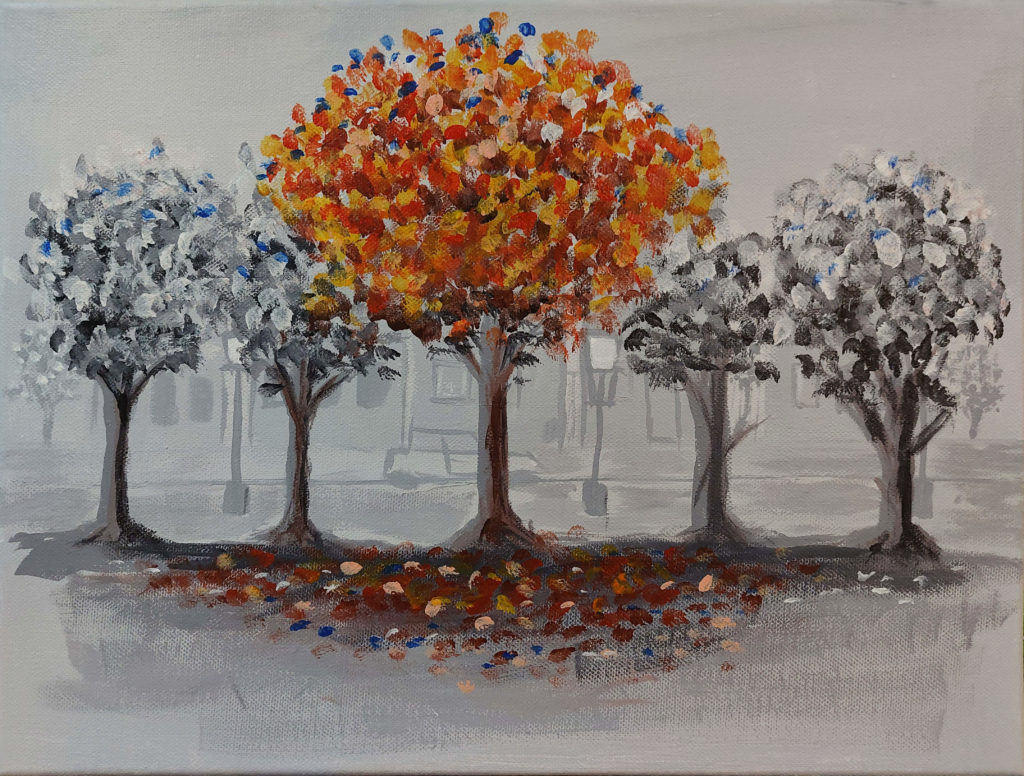 A few lines and squares in the background give the impression of buildings and windows. A car and a few streetlights make the impression stronger, and then the trees are in the foreground. Grey, except for the largest one in the middle, which is where all the golden autumn colours are concentrated. Spots of colours represent the leaves, both on the tree itself and fallen down on the ground.
All of this was done with loose brush strokes, much looser than the painting that inspired me, but – I'm happy with the result. It's the first time I've tried something like that, so it was a win for me, all done in a short evening.